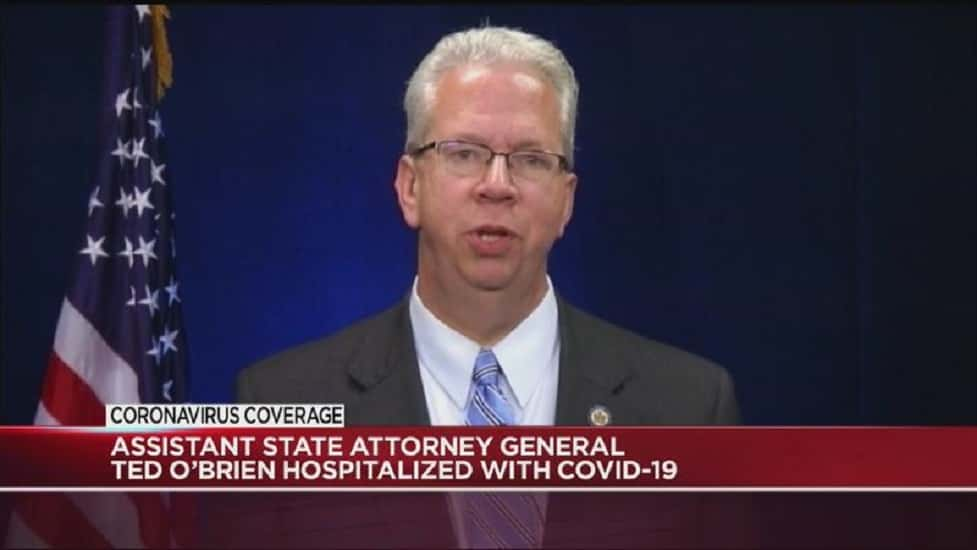 Former New York State Sen. Ted O'Brien is in the hospital with COVID-19.
O'Brien is currently the Assistant Attorney General In Charge of the Rochester Office of the New York State Attorney General.
A Facebook post made by his wife, Sue O'Brien, reads "Quarantine Day 9: I have learned that it can't be determined whether Ted will survive, and what I have realized and accepted, is that Ted's life gift is teaching the doctors how to treat this disease in its most serious forms."
In the post, Sue also said that Ted was given a new drug as a one-time infusion that may help with inflammation, though they were told responses and turnarounds are very slow.
Sue also said in the post, "If he passes, I will try to be there, they know that I want to be. Since I am COVID positive, they may have to jump through hoops to get me in, but I know they are talking about us. Otherwise, I have to pass through quarantine first."
Sue stressed the importance of social distancing and staying home, "Listen to reason. Listen to me. Stop the spread. Only by taking these actions can you do your part. It's for all of us."
Jamie Romeo, current Monroe County Clerk and a friend of the O'Brien family released the following statement on behalf of the family:
"The O'Brien Family thanks everyone for their prayers, thoughts and well wishes. Ted and Sue have been courageous throughout this ordeal, sharing their struggles with our community to stress the severity of the times we find ourselves in. Together we can flatten the curve and save lives. Please keep Ted, Sue and their family in your thoughts as we respect their privacy during this very difficult time."
During his tenure in the New York State Senate, he represented the 55th District of New York. He was also a member of the Irondequoit Chamber of Commerce.
— WHEC