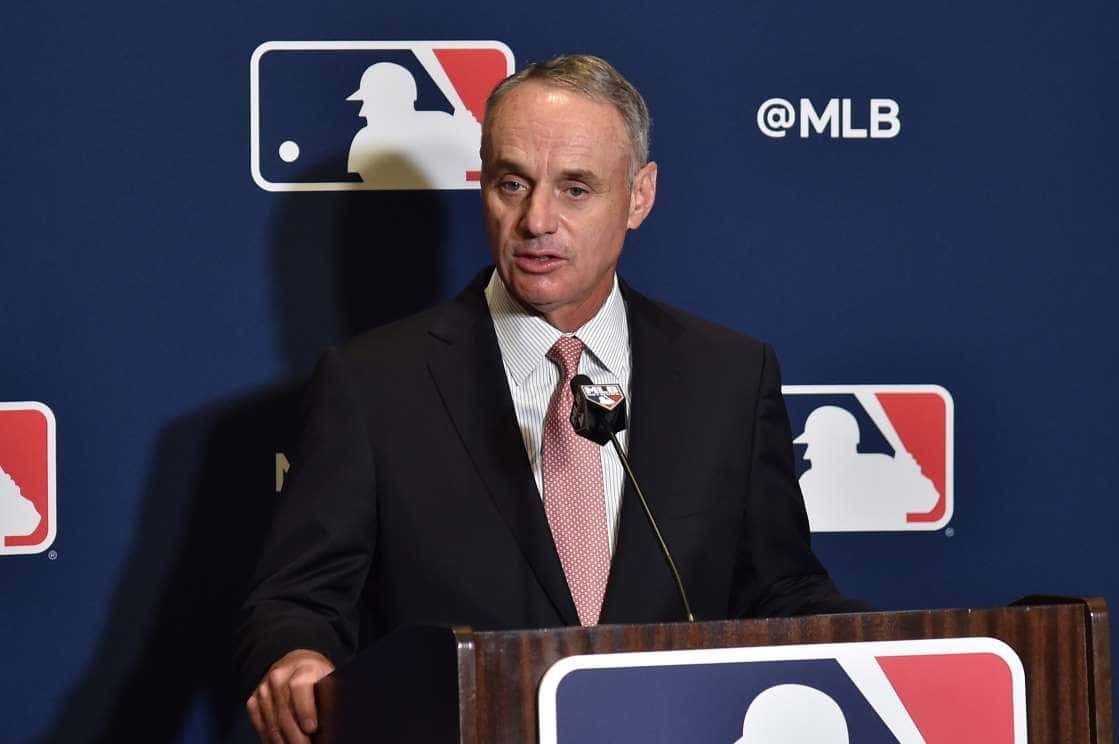 Major League Baseball and the MLB Players Association have a deal, sources tell ESPN. The players have voted on it already. MLB owners are expected to ratify it tomorrow. An excellent sign that draws a path forward as baseball tries to figure out when it will return.

— Jeff Passan (@JeffPassan) March 27, 2020
The agreement was reached on Thursday when Opening Day was originally scheduled to be held before the start of the 2020 season was suspended. While there is still no specific timetable for when the season might return, MLB and its players now have an agreement that implements a plan for the 2020 MLB Draft, player salaries and service time.
MLB and players had to negotiate a new start time and structure for the upcoming draft, originally scheduled for June 10-12. Now, both sides are just hopeful that the season will be able to start in June, but many around the league believe it won't return until July.
Additionally, there were negotiations over how player salaries would be paid out over a shortened season and how it will impact players' service time.
2020 MLB Draft
The MLB Amateur Draft will be pushed back to July, a month later than it is typically held.
Due to the cancellation of the high school and collegiate baseball seasons, MLB will have the authority to cut down its 2020 draft from 40 rounds to five rounds, per ESPN's Kiley McDaniel. MLB will also be able to shorten the 2021 MLB Draft from 40 rounds to 20 rounds, per ESPN.
Draft bonuses will be broken up over time. Players will receive 10% upfront, 45% in July 2021 and 45% in July '22., per McDaniel.
Undrafted players will have the option to sign with teams, but the bonus could be maxed at $10,000, per McDaniel.
MLB will also have the ability to delay the start of the international signing period until as late as January 2021, per ESPN's Jeff Passan.
The system is, in large part, designed to allow a majority of players to take the college route and have a chance to improve their draft stock over a full season.
Player salaries
Players will receive a prorated portion of their annual salary depending on the number of games played. Both sides are currently hoping to play 100-plus games this season.
MLB pledged $170 million towards player salaries that the MLBPA would divide amongst its players in April and May, per Passan. The money would not need to be repaid if the season is canceled.
The money will be divided among four tiers of players. Players with guaranteed contracts and then three levels of players with split major and minor-league contracts, according to The Athletic's Ken Rosenthal.
Due to the shortened season, the arbitration process will be adjusted so that players aren't negatively impacted by reduced stats compared to previous seasons.
Service time
If, in a worst-case scenario, the entire 2020 season is canceled, MLB players would receive the same amount of service time they got in the 2019 season.
It's great news for Mookie Betts. After being acquired by the Los Angeles Dodgers this offseason, Betts will become a free agent in 2021 no matter what.
Any players who haven't made their MLB debut would lose a year of service time, if the season isn't played.
MiLB players and stadium employees
MLB teams have ensured that non-player employees will be paid as scheduled through April. However, per Passan, furloughs, salary cuts and deferred payments could become an option in May.
Before the deal was reached, all 30 MLB teams agreed to put $1 million each towards providing financial support for their employees during the suspended season.
Similarly, MLB previously announced a short-term plan to provide minor-league players with financial aid through April 9 with a lump sum.
Under the new deal, minor-league players are expected to receive some form of compensation. However, specific details haven't yet been disclosed.
Both sides remain hopeful that the MLB season will launch in June. Now with the new deal in place and all parties satisfied, MLB can focus its attention on the next steps to hopefully prepare for a season.
— YARD BARKER